Exclusive Use Wedding Packages
The exclusive use wedding packages available are designed to offer parties of 45+ the chance to book The Mill Forge Hotel near Gretna Green as their wedding venue
All ceremonies take place in a purpose-built ceremony venue which has soft candlelight and romantic music which combined with the open timber roof creates a wonderfully intimate atmosphere. A local minister or registrar would conduct the wedding ceremony
A team of wedding planners are on hand to offer free friendly advice on all aspects of weddings at The Mill Forge as well as providing on the day co-ordination. With their collective experience spanning more than sixty years and many thousands of weddings, there's nothing they can't help you with.
Once married the happy couple could have their wedding photographs taken in our stunning gardens by a professional wedding photographer while being accompanied by a traditional Scottish piper
After the wedding photographs have been taken, the newlyweds join their guests for a delicious meal in one of the restaurant's
function rooms before dancing the night away
The Mill Forge is located just two miles from Gretna Green which means that while it's far enough away to avoid the hustle and bustle of the busy tourist areas, it is still close enough to be touched by the village's romantic history
Exclusive Use Wedding Packages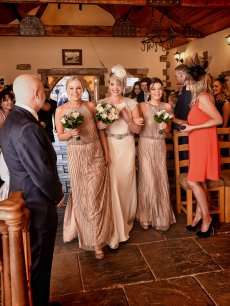 Tie The Knot Exclusive £5,995
With your ceremony venue, bridal accommodation, accommodation for 40 guests plus a meal and drinks package for 45, the Tie The Knot package offers great value for money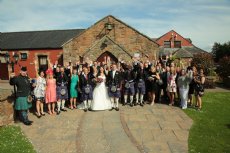 Ultimate Exclusive £7,495
The Ultimate Exclusive Package has everything you need, including your ceremony venue, bridal & guest accommodation, a four course meal with drinks package for 45, photos, piper and a bridal makeover for the bride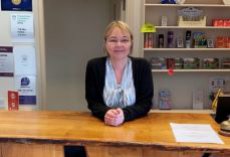 Make an Enquiry
Contact our wedding planners on 01461 800344 or through our contact form and they will give you free friendly advice on how to book one of our packages. They are available from 9.00 a.m. until 7.00 p.m. seven days per week.